Dock
$2.75/ft

Mooring
Not Offered

Day Trip
Free Up to 2-Hours
46 Westerly Rd
Ossining, NY 10562-4108
Check-in after 01:00 PM
Check-out before 10:00 AM

---
by David P. - Verified user on Oct 04, 2023
Super friendly club. Well protected and 10 feet depth. Clean showers and hot water. Had help for the free pump out. Yes some bird drops on the docks, nothing to ruin a perfect stay. Westerly marina next door has a good ship store and is a Yanmar dealer.
---
by Gary M. - Verified user on Sep 19, 2023
Nice spot. Helpful dock service and several restaurants the equivalen of 2 blocks away along the waterfront. We walked up the hill into town to the SingSing Kill brewery, about 10 -15 minutes. No real complaints. Update: Somewhat exposed to the wind, but good wave attenuating concrete dock system. Stayed here in 2021 and again in 2023 while heading south after returning from the Great Lakes.
---
by Michel G. - Verified user on Sep 11, 2023
This is a little gem in the town of Ossining. It has great people and a charming atmosphere. I did not feel out of place amongst fellow sailors and there. There is also a good restaurant only a 5-minute walk from the clubhouse.
---
by Robert F. - Verified user on Sep 11, 2023
It's a small quiet town. Very nice members of the Club graciously welcomed us and invited us into their clubhouse. We lost power at the dock and had to run our generator all night. Be sure to take a hike across the train tracks to the Sing Sing Kill agua duct Trail. It's a short hike that's worth the effort.
---
by Patrick B. on Sep 06, 2023
A great place to dock your boat. The pool was also a great feature. Showers and restrooms were also available. Great view of the mountains from the transient Dock.
---
by Diana T. - Verified user on Aug 16, 2023
Docks were nice. Wide cement docks with bright power pedestals. However, no one answered the phone or radio.
---
by James P. - Verified user on Aug 14, 2023
Very good. Everyone was friendly, helpful and accommodating. Pool and facilities very well kept
---
by Kathy R. - Verified user on Jul 31, 2023
Staff and members were friendly and nice. Pool was great. Would definitely go again.
---
by David W. - Verified user on Jul 24, 2023
New transient docks, pool, Clubhouse and two great restaurants nearby.
---
by Keira B. - Verified user on Jul 16, 2023
Thanks Shattemuc for hosting the Hudson River Boat and Yacht Club Association rendezvous. Great food and venue.
---
by David s. - Verified user on Jul 16, 2023
Our stay was great too short pool was very nice close to a restaurant
---
by James A. on Jul 01, 2023
Great little marina. Very solid cement floating docks make for a very comfortable night. The Boat House restaurant is a short walk across the parking lot with great food and even better atmosphere.
---
by Dan B. - Verified user on Jun 18, 2023
Always enjoy our stay. We try and stop once a year. Disappointed the lifeguards wouldn't let My 6 year old grandson use the pool. She said it was for members and guests only. Kinda thought we were. Oh well.
---
by Joseph M. - Verified user on Jun 13, 2023
Shattemuc YC is the most beautiful spot on the river. I love that we can get in there easily and enjoy the most beautiful view. The YC is well maintained by friendly people. Close to a couple of great restaurants and the Metro North station. We love going there and will continue to do so.
---
by Jodi C. - Verified user on Jun 08, 2023
Another great stay. Beautiful views.
---
by Stan D. - Verified user on Jul 06, 2022
There was do dockmaster or dock hands when we got there at 3p to tell us where to tie up. We took an empty slip on an empty tier. The power towers didn't work and there was no water. There were no other empty slips that didn't have evidence of a seasonal user. We left and went to the next Marina, Half Moon Bay which was fine. We did lose an hour of time though horsing around.
Marina Response:
We are sorry about the inconvenience you experienced on 7/06/22. Our transient dock electric service was damaged by a spring storm. We are awaiting shipment of repair items. The issue, however, is prominently noted on our Marinas.com reservation page and electric service is not offered on the service / amenities list. Also, our Dockmaster who was not there at the time of your arrival, did speak with you by phone with instructions. again, sorry for the inconvenience, we hope to have the transient docks powered up as soon as possible. SYC
---
by John H. - Verified user on Oct 25, 2021
Beautiful views and everyone was nice.
---
by Phil B. - Verified user on Oct 04, 2021
Lovely club marina on the Hudson, remote dockmaster responded immediately to phone call and walked us through the highly sensitive breakers on the new power outlets. Facilities were clean and everyone we encountered was friendly with lots of information about the local scene. Would definitely repeat.
---
by Peter G. - Verified user on Aug 24, 2021
Very easy marina to get in and out of. Great wide concrete dock. Only stayed one night, but enjoyed the stay and an the awesome sun set views!!
---
by Intiaz k. - Verified user on Aug 16, 2021
Upon arrival all the transient docks was full of bird poop. The water pressure is fairly low and electric is good. The staff at the pool has no clue what " transients " mean. They almost kicked my family and friends out of the pool because they thought we had no business in the pool. The pool it self was great. It took over 1 hour to get them to confirm we actually were guest of the marina. Some marina guests are not welcoming at All. It's sad to say but racism is still a factor in 2021. Bruno the dock hand was helpful when he was around but for the most part as a transient you are on your own. When we needed ice not one single member out of the 20+ people we asked for assistance with the key offered to help us.
---
by Daryn B. - Verified user on Aug 09, 2021
Very nice club and group of people. There is one restaurant on the property and another close by. Beautiful views at night. There is a problem with power on the transient docks, several boats had the same issue with breakers popping. We and the other boats have never had any problems at other marinas, but the staff there insisted it was our boats that were the problem. Thus 4 statrs...it is not our boats. It was a cool night so no ac was needed.
---
by marc g. - Verified user on Aug 08, 2021
Great facilities. Members were very friendly
---
by Peter S. - Verified user on Jul 04, 2021
Great facility and very friendly members!!
---
by Mike F. - Verified user on Jun 13, 2021
Great club and location. Members here are very friendly anything you need they will get it for you. The club house, porch and grounds are very nice. Great upper deck. The dock system they have breaks up the waves and protects the inner docks so it was very calm. Bruno was friendly and very helpful and got us tied up for the night. We will be back for sure to enjoy more sunsets and the local restaurants.
---
by Michael N. - Verified user on Jun 13, 2021
Beautiful marina with great views! Two excellent restaurants right next door. A wonderful overnight trip from our homeport.
---
by Vinny F. on Dec 11, 2020
Stayed overnight a few times and had a great time. Plenty of water and the staff were great. Beautiful views of the Hudson.
---
by Guy E. - Verified user on Nov 01, 2020
Beautiful spot up the Hudson! Friendly people and helpful dockhands!
---
by Mary H. - Verified user on Oct 19, 2020
Amazing unobstructed views overlooking the Hudson River in a protected slip. Two restaurants within a very short walk. Easy access to the Ossining Train Station to NYC. Grills and bathhouse available. Very welcoming Marina.
---
by Guy E. - Verified user on Oct 02, 2020
Dockmaster and crew were very helpful.
---
by Brett M. - Verified user on Sep 07, 2020
In the middle of COVID-19 it is hard to run a tight ship. However, Shattemuc really nailed it! We received and email communication earlier in the day and it explained how and where to arrive given the draft of our sailboat. We had been underway for over 12 hours so when we pulled in the ease of tieing up and getting set for overnight was a welcome luxury. The club was quiet and everyone was respectful of the COVID-19 restrictions. Next time we transit the Hudson I know where I'm staying.
---
by Robert H. - Verified user on Jul 20, 2020
We had a great stay at the Yacht Club. De was there to help us get situated and came by each morning to see if we needed anything. Their sea wall made the marina very calm even thought the River was tough at times. The Boathouse Restaurant was very good just be sure to make a reservation as they were busy even during midweek.
---
by Anastas M. - Verified user on Jul 02, 2020
Small yacht club- we were lucky with a discounted dockage fee. If we were paying full fare - it would be overpriced. Showers although clean(ish) had peeling paint and questionable fixtures. Due to Corona 19 clubhouse closed as well as pool.No laundry facility. Everyone was very friendly .
---
by John N. - Verified user on Oct 01, 2019
Beautiful views, awesome docks, nice pool and nearby restaurant. Very friendly and welcoming upon arrival from dock master De!
---
by Eric B. - Verified user on Sep 09, 2019
Nice, modern docks. Very calm inside with chop outside the marina. Friendly people.
---
by Norman N. - Verified user on Sep 02, 2019
Very friendly place. Beautiful view of Hudson River. Nice transient docks - except can be rough from river traffic.
---
by Rebecca G. - Verified user on Sep 02, 2019
Lovely setting, a sweet little clubhouse where we received a warm welcome from members when we stopped in for their Friday happy hour, and a place where visitors are encouraged to use the range of facilities including a pool that was open until 8:00pm complete with lifeguards. Dockmaster De was fantastic- quick to respond to questions before our trip, ready and waiting and helpful upon our arrival, and readily available without being intrusive throughout our weekend stay. Shattemuc seems to have made a concerted effort to make itself a place that is welcoming to visitors and it shows. P.S. The club is walking distance to a couple of restaurants and bars including The Boathouse which was great, and a five minute walk to a large boat supply store (Waverly Marina), as well as the Ossining MetroNorth train station.
---
by Douglas K. - Verified user on Aug 25, 2019
Very friendly members and staff. Full use of all facilities. Great restaurant, the Boathouse, just steps away. Will return and highly recommend.
---
by Joseph S. - Verified user on Aug 18, 2019
Everything was perfect except the power kept blowing the breaker
---
by Jack G. - Verified user on Aug 04, 2019
Staff couldn't be friendlier. Well kept marina, easy getting in and out of. Awesome pool on location, really large. Pretty decent food at Boathouse next door. Town is nice but up a hill, biking is tough.
---
by Seth G. - Verified user on Jul 07, 2019
Nice Marina with a great pool. Views are absolutely stunning!
---
by David E. - Verified user on Sep 17, 2018
Great docks, well protected. Nice happy hour on arrival! (you don't get that everywhere) Also, we enjoyed the regatta and dinner.
---
by JoAnn W. - Verified user on Sep 11, 2018
Lovely, sheltered marina. Dock master could not have been nicer or more accommodating. Easy walk (climb) to town with small grocery store, several restaurants and a laundromat. Good WiFi, clean restrooms and Boathouse Restaurant has good food and great service. Did I mention the gorgeous view? Would love to return!
---
by Jeffery K. - Verified user on Sep 04, 2018
Great stay! Members and Dock Master friendly and welcoming. Beautiful location right on river. New docks and slips are great.
---
by Howard F. - Verified user on Aug 25, 2018
Well protected marina. Club members are friendly.
---
by Michael P. - Verified user on Jul 08, 2018
The people are very welcoming, the docks are modern. We were invited to the Club functions which were entertaining
Marina Response:
We love meeting boaters from all over, and hope you come back soon!
---
by Steven K. - Verified user on Jun 07, 2018
Although we only spent a night and did not have time to take advantage of all this lovely YC and her staff have to offer, De and crew were very gracious and helpful. Next time, we'll stay longer to explore.
---
by Anonymous on Sep 26, 2017
This place is really nice. Probably the best transient club on the lower Hudson. Great docks with good protection. Stable 30amp and 50amp electric service. free water hookup. rock solid wifi (with enough bandwidth to easily stream movies). Really nice people. And unbelievably beautiful sunsets. Two restaurants within a short walk (Boathouse and 3 Westerly). Train to the city is a 5 min walk. Dockmaster Day is super nice and went way out of his way to be helpful.
Marina Response:
So glad you enjoyed our place. Come again!
---
by steve b. - Verified user on Sep 19, 2017
very friendly place. beautiful spot on the Hudson with calm water. walking distance to several waterfront restaurants. had a nice slip along their new cement floating dock / wave attenuator. nice clubhouse and we caught the last day of their pool being open.
Marina Response:
We're very glad you had an enjoyable stay!
---
by paul t. - Verified user on Sep 05, 2017
The stay was great we had a bunch of boats from whites marina and it was a great time docks were great and the dockmaster DE was super super helpful and accommodating the clubmembers that we met were very friendly. We are already talking about our next trip there.
---
by Jim J. - Verified user on Aug 21, 2017
This is a fantastic club with great members. Very welcoming and excellent facilities. Wonderful restaurants within walking distance or by cab. Train station right there to head straight to NYC.
About Shattemuc Yacht Club
Shattemuc Yacht Club is beautifully situated on the banks of the magnificent Hudson River. We are now welcoming applications for new memberships! Shattemuc has a protected marina suitable for both power and sailboats. Hosting year 'round social events for members and their guests, we are family oriented and run a world-class, highly regarded junior sailing academy. Privately member-operated, our club provides a friendly, relaxing and convenient place to enjoy the Hudson, featuring a charming clubhouse with a grand porch from which to view the sights and sunsets.
---
Booking Info
Proud Recipient of the Boater's Choice Award!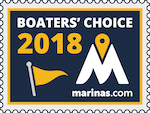 ---
Services
---
Amenities
Launch Service

Wireless Internet

Pumpout

Restrooms

Showers

Ice
Restaurant

Floating Docks

Winter Storage

Travel Lift

Medical Facilities w/in 5 Miles
---
Info
---
Photos
---